When you think of Australian animals, it's usually the clichéd Kangaroo or the boring Koala that first spring to mind. As cute as these animals may be, let's face it, they're pretty much hasbeens and can't hold a candle to Australia's real treasure, and Mick Dundee's namesake: the Crocodile!
If you're a crocophile, then today you're in luck because the NT is the place to be with river cruises, guided indigenous tours and even special parks where you can share and swim in the same waters as these incredible beasts.
5 of the Best Crocodile Tours and Cruises the NT Has to Offer
1. Mary River Wetland Cruise
Taking a cruise down the Mary River Wetlands provides stunning views of the famous Corroboree Billabong, its rich vegetation, vast wetland bird life, and of course, the world's largest concentration of saltwater crocs.
The cruise has plenty to please the eye and it won't be difficult to spot a croc or two while enjoying an intimate guided tour, complete with picnic lunch amongst the greenery.
The cruise lasts roughly two and a half hours and hotel pick up and returns for those staying in Darwin are available.
2. Crocodylus Park
If you're keen to learn a little more about crocodiles, why not get up close and personal with these ancient creatures at Crocodylus Park? Home to 1000 + crocodiles ranging from a minuscule 30cm to the underwear changing half a ton.
As the park is owned and operated by Wildlife Management International (WMI), Crocodylus serves as both a tourist attraction and a source of research for the purpose of education and sustainable wildlife conservation.
If crocs alone weren't enough to make you crap your pants, the park also has lions, tigers and snakes – oh my – plus a wide variety of other native and non-native wildlife.
3. Crocosaurus Cove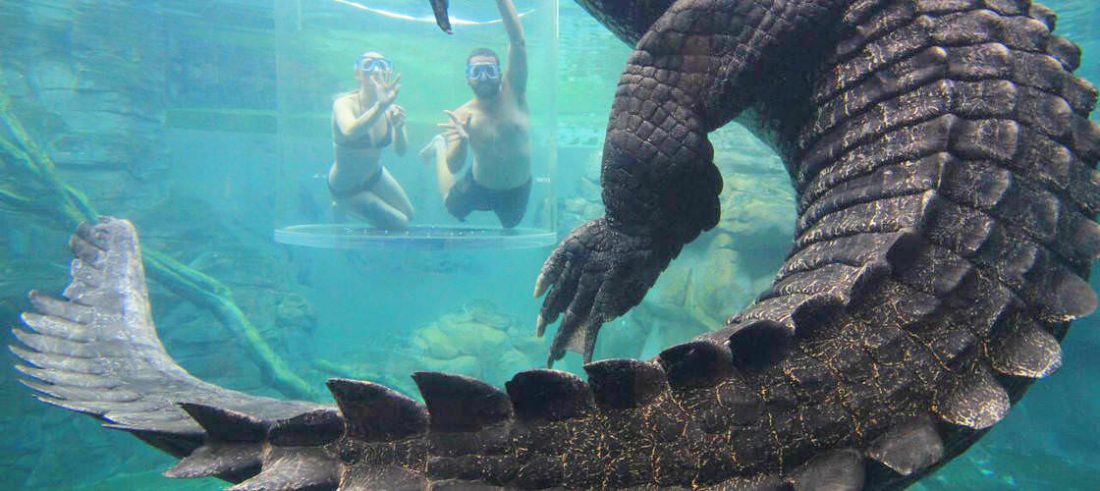 Speaking of shitting your pants, probably one of the best places to do it would be Crocosaurus Cove's Cage of death.
This 15 minute dive combines the safety of a transparent encasement with a 360 degree view of the one of Australia's most feared inhabitants. This is the only place in Australia where you'll be able to swim with a 5 meter plus dinosaur and live to tell the tale.
The Cage of Death can house up to 2 people at a time, making it the perfect day out with a loved one who hasn't yet had pleasure of seeing you fill your undies – which, as we all know, is the true test of love.
4. Adelaide River Jumping Crocodile Cruise
If swimming face to face with a croc isn't for you, don't worry, because the Adelaide River Jumping Crocodile Cruise is perfect for sane people who prefer to view their prehistoric predators from a distance.
Watch them swim, eat and mean mug you from the comfort and safety of a man made boat – just like god intended.
This cruise is a 60 km journey from Darwin down the Adelaide River via the wetland home of over 1,600 toothy crocs that'll literally jump out of the water to see you.
5. Yellow Water Boat Cruise
Heading back to Kakadu, for the final tour on our list, is the Yellow Water Boat Cruise located to the north of Kakadu National Park.
Kakadu is home to more than 10…far out…10,000 crocodiles! According to Parks Australia, that's one croc per 2 km2 of land and potentially seven in each stretch of Yellow Water Wetlands.
As the Yellow Water Boat Cruise has exclusive access to the wetlands, booking ahead of time to bask in the Billabong, and all its sunrise and sunset glory, is essential.
Fishing options are also available and the indigenous tour guides, who are intimately linked with the Bininj people, will be more than happy to educate you about the flora and fauna of the land.