"The great down the guts trip" Part 2 of 2
Note: this continues on from Part 1 of the story.
Alice to Uluru is about 463km or a 4.5hrs drive. Be aware of wild cattle and horses on the road as I would not recommend driving through the red center at night time. There were a few places to stop along the way however the BEST stop by far was Mt Ebenezer Roadhouse and art gallery. This roadhouse and art gallery is located half way between Alice and Uluru. The art gallery out the back was by far the best and cheapest art we have found in the NT so far! Artists from the local Imanpa community are transported to the roadhouse's studio daily and spend the day painting. There is a great selection of wood carvings, jewellery and canvas paintings on display. Go ahead, treat yourself and support the local community – I sure did!
NOTE: photo's were not allowed to be taken in the art gallery.
Uluru! Yes- it is the world's largest monolith and is bigger and more breathtaking than anything I have ever seen in my life! It is thought that only 3% of the tourism population, have the privilege of seeing rain on the rock, and I was lucky enough to be one of the 3%. We ended up staying at the Uluru camp ground however found that there was a cheap camp ground near Mt Connor called Curtain Springs Station! I think if I were to go to Uluru again, I would stay at Curtain Springs. It was quirky, had heaps of animals and seemed a lot less crowded than the Uluru camp ground. The Uluru camp ground had good toilets and showers however was the most expensive site we camped at during our trip.
Hot tip for the Kata Tjuta national park pass: If you or one of your mates has an NT licence, it is cheaper to get the yearly pass than to pay per person! Note: you must have NT license plates as well as an NT license.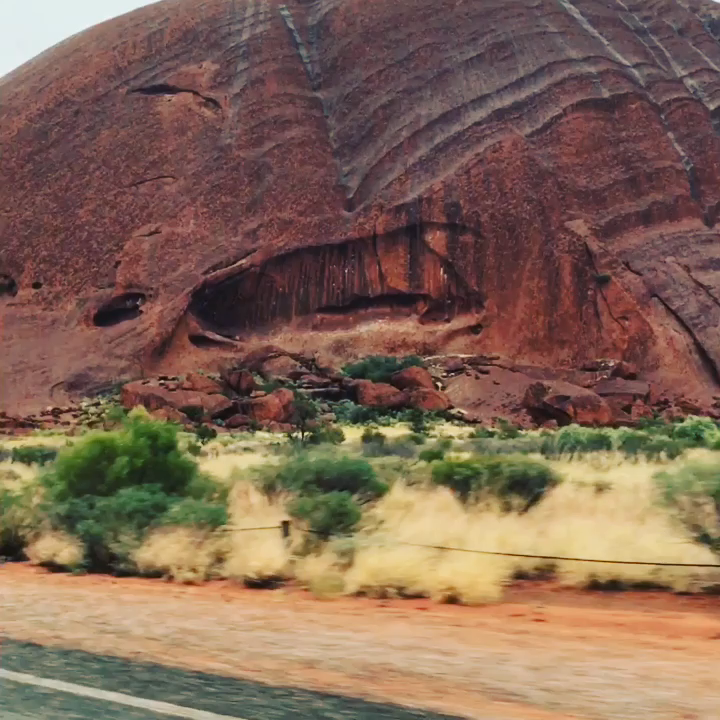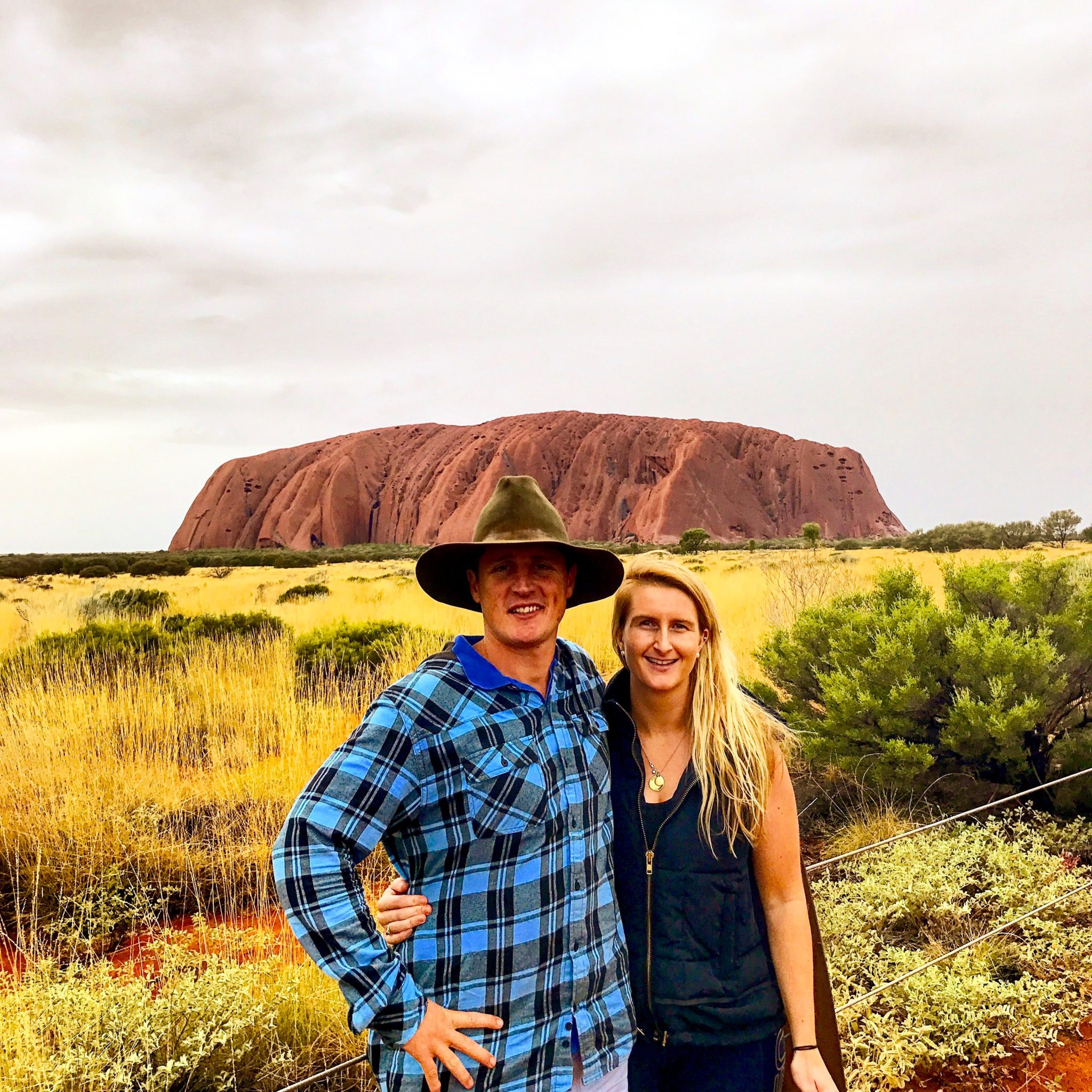 If you go to Uluru, make sure you visit the Olga's! The day that we went it was cold and raining so I will be making sure that I get back to see them in the sunshine as well! Make sure you leave at least half a day (if not a full day) to do all of the walks.
Now for the trip from Uluru back to Alice via the 'Red Centre Way'. For this trip you will need a permit (only $5) and can purchase these over the counter in Alice Springs, Hermannsburg and Kings Canyon resort. This road is mostly UNSEALED and when we drove it, they had recently had rain and it was very slippery! This trip includes around 200km of unsealed road and it is recommended that you have a 4WD or an off road camper, however we saw many 2WD doing this road also.
Our first stop was Kings Canyon. Kings Canyon is located 323km South West of Alice Springs. Kings Canyon has a resort and camping ground with a convenience store, petrol station, pub/restaurant and live music! This camp ground had lovely facilities and a pool. I would recommend staying here at least one night as the Kings Canyon rim walk takes at least half a day (pending on the temperature) or around 4 hours. I would highly recommend this walk! Believe me though; it is not for the faint hearted! Kings Canyon is around 100m high. There are 3 walks to choose from however if you want the best views you must do the 6km rim walk. There is a steep climb at the start however once you get to the top the views are fit for a king!
Hot Tip: When camping at the camp site, make sure you zip your tents up and do not leave any rubbish or food out! There are lots of dingo's that hang around the park and they aren't afraid to come and say G'day!

Now the fun begins, 200km of dirt road! Next stop, Redbank Gorge… one of my favourite places we stayed at during our trip! Redbank Gorge sits at the base of Mt. Sonder in the West McDonnell ranges. It is about 156km west of Alice Springs via the Larapinta and Namatjira Drives. There are two camping sites at the gorge and I HIGHLY recommend staying at the ridgtop camp ground. We were lucky enough to have this spot all to ourselves. It has a pit toilet and fire pits so this is a great opportunity to get out your cooking pots and tune your inner Russell Coight for some fair dinkin bush tucker! Biscuit anyone? If that's not for you, baked beans on toast always does the trick also. This camp site is only a few dollars and you can leave it in the box for the ranger to collect.
HOT TIP: collect your firewood outside the camp grounds near the main road and make sure that you keep all food in esky's or cars as the crows tore up our chairs just to get to our easter egg wrappers!
At sunrise and sunset, the mountains light up in many beautiful colours. The gorge is below the camp site (quick drive, then a quick walk) and is amazing! The water was very cold so was great to cool off after a hot day.
From Redbank Gorge we made our way to Glen Helen Gorge. Glen Helen Gorge has a petrol station, café, toilets and a camping ground. The water hole is a short walk from the café and is spectacular! Some safe a picture paints a thousand words… I'll let you decide.
Hot Tip: Put this one on your bucket list!
We gorge hopped our way from Glen Helen down the road to Ormiston Gorge. Ormiston Gorge is located about 135km West of Alice Springs. The Gorge is located 500m from the parking lot and has a shower, toilet, camping facilities and a café. There are many walks you can do around the gorge as well as ranger guided activities or you can just cool off at the main waterhole.
From Ormiston we drove to the Ochre Pits, and then onto Serpentine Gorge. It is a 1.3km walk to the water and you can climb out to the look out. We did not swim at this Gorge as it is semi permanent and there was not much water.
Next up on our Gorge hop is Ellery Creek Big Hole. This swimming hole was by far the coldest we had visited! Be wary of the pythons that scale the rocks and occasionally drop into the water! You can swim from the main pool right up through the gorge.
Unfortunately we got a flat tire and decided to give Stanley Chasm a miss and head back to Alice Springs before the Mechanics closed.
Back in Alice again and we managed to "accidently" find happy hour at the Todd Tavern. The friendly staff looked after us and we booked a few rooms for the night! This pub is described on their website as "the only traditional pub in Alice Springs" and boy will you find some characters here (and a duke box – winning)!
Where to eat in Alice? There is only one place I would suggest and that is Hanuman! Located in the Hilton Double Tree hotel, you will be a fan of my great mate Hanuman! Thai, indian and Nonya, this is the best Asian you will eat out of Asia. Another plus? It is only a short walk to the casino (and boy was that an experience)! If you are in Alice, you might as well chuck on some thongs (or Rocko's if you are my fashionista boyfriend) and check out the Lasseters Casino. Keep your wits about you though as you might get bailed up by our mate (insert name here) who has described most of the women there as 'lunch cutters', so girls … hold onto your man!
From Alice, we did a massive drive all the way back to Mataranka… This stint was about 1,075km and took around 10-11hrs.
Hot Tip: Make sure you have some good tunes. (video)
From Mataranka we went to Katherine Gorge. The camp site is cheap and has a lovely pool, bar, BBQs and great showering facilities. There is also a resort there if you feel like booking a room. Heaps of walks around the Gorge (pending on the temperature) and plenty of places to swim!
Our mates did a helicopter flight over the 3 gorges and then we finished the evening with a sunset climb to the lookout point.
HOT TIP: take a head lamp or torches as the climb down is quite steep and I did a double plugger!
Almost there, one more stop! Adelaide River for the ANZAC day memorial service. Guys, if you have not done this, put it on your list!
We stayed at the Mt Bundy Station and I can guarantee you that I will be back again. Lots of shade, lots of room, friendly staff, home cooked burgers, a camp fire, a bar and live music.
Worth a look if you aren't ready to get back to Darwin!
The dawn service was held in the cemetery and as we paused for our one minute of silence an eerie fog rolled over the graves….. this service was really special.
One last stop on our way home, the lovely Edith Falls. Located 60km north of Katherine. This is a beautiful place to stop off and cool down on your way back to Darwin. Edith falls has a bottom pool and a top pool (which is open all year round). There is a campsite and café at the base of the falls as well as lots of shady spots for a picnic.
The top waterfall is a must do and is a quick walk from the car park.
Back to Darwin! The perfect way to end our trip was to watch one of the last wet season sunsets at the ski club with the gang. What a great way to conclude our "down the guts trip 2017 (and back again)".
Hopefully I have inspired you to do your own NT adventure! Hopefully we will CU in the NT!