Planning a trip to Darwin but don't want to waste your money on overpriced hotels? Want to meet tons of people from around the world, see the sites by day and party hard by night?
Hostel hopping is one of the best ways for backpackers to see the city of Darwin and hang out with other like-minded travellers.
Below, we've listed 5 of Darwin's best backpacker hostels, where you can put your feet up, get loose AF and make tons of new friends on your Darwin vacay!
The 5 Best Backpacker Hostels in Darwin
Down Under Hostels
A short 12-minute walk from the beach, Down Under Hostels is a favourite for many young backpackers who like to mix up a bit of sight-seeing with some nightlife adventure.
Facilities include free WiFi and access to Apple iMac computers, BBQ's, kitchen, hot tub time machine and air-conditioned rooms to help you sleep soundly through those warm summer nights.
Rooms feature mixed, female only dorms and twin bunk bedrooms for couples wanting a bit more privacy.
Head over to Down Under Hostels for more information.
Youth Shack Backpackers
Located on Darwin's iconic Mitchell street, Youth Shack Backpackers is the place to be for those looking to hit the town and party the night away!
Youth Shack is known for their awesome outdoor pool and adjoining bar, where no doubt most of your time will be spent.
Seriously, who needs air-conditioning when you've got hot sun, crystal clear water, beers and bikinis?!?!?!
Other facilities include free WiFi, 24-hour front desk, twin rooms, female only and mixed dormitories.
Jump on over to Youth Shack for more details.
Melaleuca on Mitchell
The highest rated on Booking.com and an award-winning hostel, Melaleuca offers a number of different options ranging from mixed and female only dorms to private rooms… some of which come with their own bathroom!
Surrounding attractions include short walks to Crocosauraus Cove, Bicentennial Park and the Darwin Warf Precinct.
Facilities include outdoor BBQ's, terraces, bar, pool, hot tub, disability access, 24-hour desk, broadcasts of live sporting events and much more!
Head on over to Melaleuca on Mitchell for more details!
Chilli's Backpackers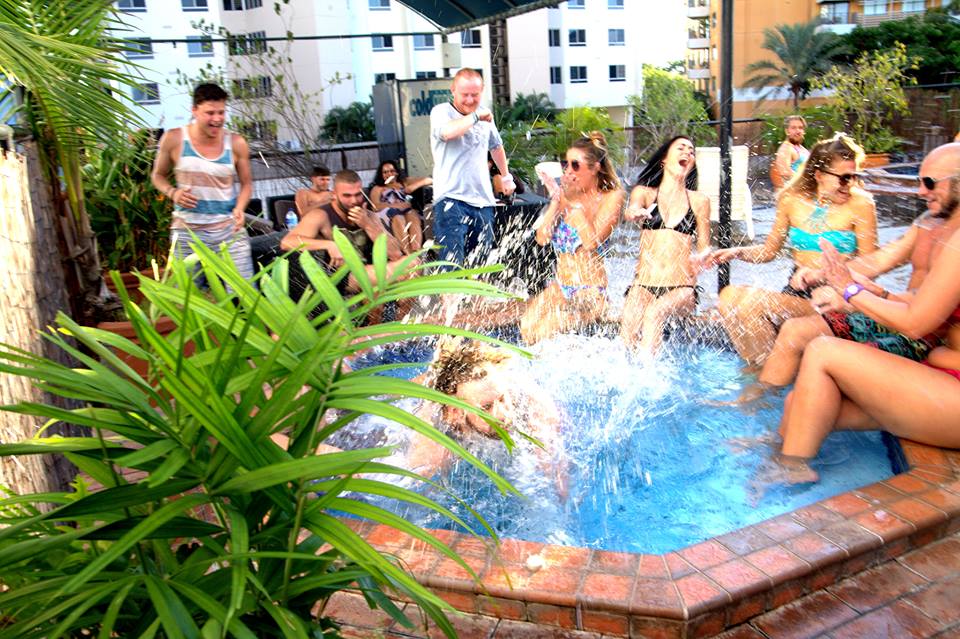 Another hostel located in the heart of Darwin is the famous Chilli's Backpackers. Chilli's offer a free airport shuttle bus, for guest staying a week or longer, and 24-hour front desk check-in.
Relax your weary feet in the hot tub, or sunbake on the terrace, while you wait for the day to end and Darwin's nightlife to begin.
The staff at Chilli's will be more than happy to help you have an amazing experience in the NT and will even organise a 4-wheel drive tour to Kakadu, Arnhem Land, Litchfield and the wonderous Kimberley.
Facilities include free Wifi, laundry, pool, hot tub, continental breakfast, air-conditioning and lockers to secure your valuables.
Head on over to Chilli's for more info!
Dingo Moon Lodge
Located on Mitchell Street, the Dingo Moon Lodge is another Darwin hostel with a fantastic pool area and, apparently, Australia's best FREE hostel breaky!
They offer a range of accommodation options from 8-person dorms to 2 or 3 person private rooms.
Facilities include pool, BBQ, laundry & ironing facilities, communal kitchen, tour booking, internet and WiFi access, luggage storage and even a sun lounge area.
For more information, click the link to Dingo Moon Lodge!